ANNUAL BOOTH LICENSE AUCTION NOW OPEN FOR BIDDING
Scroll down to place your bids.
Scroll Down
Auction Ends Thursday September 15th at 7 PM unless active bidding is happening.
LACC SWAP MEET is runs an ANNUAL BOOTH LICENSE AUCTION every month for all unlicensed booths.
If you have an Annual Booth License, no other vendor can book your space so long as your weekly fees are paid by 7PM Friday prior to the weekend you want to attend. 
NEW! Proxy Bidding
You can now enter the highest amount you are willing to pay and the system will only show the minimum amount unless someone bids against you. At that time, the system will auto bid for you, up until your set proxy bid amount. 
For example, if you want to go as high as $800, then bid $800 and the system will enter an opening bid equal to the lowest possible amount. As people bid against you, the system will increase it according to the next minimum bid allowed. 
Remember
Each week you must pay for your booth space before Friday ay 7 PM. or your booth will be released. All bookings must be made in ADVANCE of Friday at 7 PM. 
If you do not, we will assume you are not planning on selling that weekend, and release your space(s) so someone else can book them but only for that weekend. 
Auctions run through the 18th of each month. You can only bid on booths that are not already licensed to other vendor. 
You can bid on multiple booths at the same time. All your auctions will be in your dashboard. Click HERE to view your Dashboard. 
If you have any questions, please visit the Contact Us page 
Good Luck!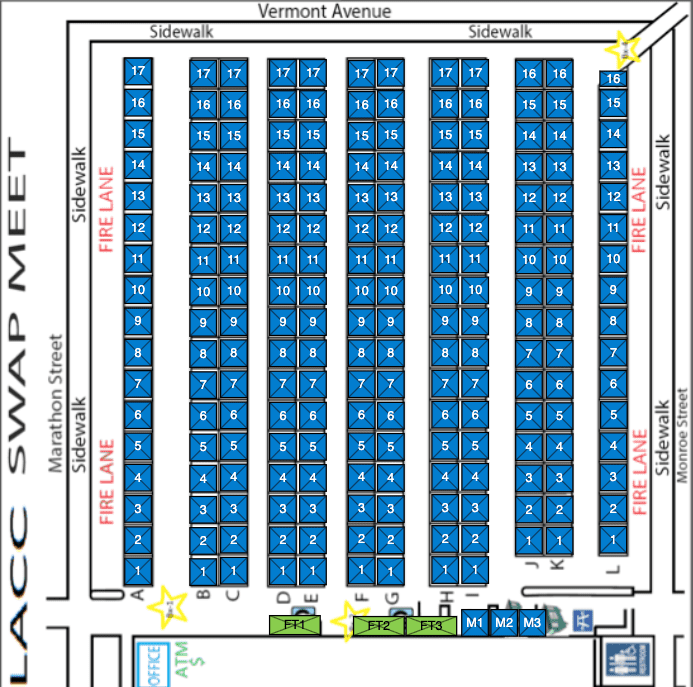 Saturday Annual
Starting $75
per Month
Sunday Annual
$75
per Month